Otrivin Paed. Nasal Drops
The effect of Otrivin sets in within a few minutes and persists for several hours. Otrivin Paed. Nasal Drops.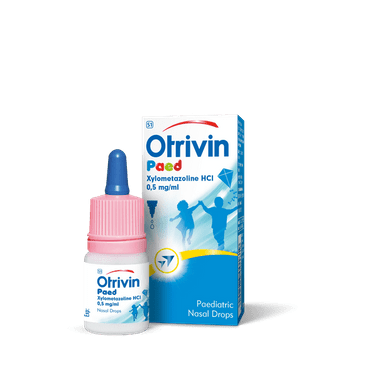 Ingredients and Instructions for use
Otrivin Paed. Nasal Drops is contraindicated in children aged less than 2 years old. Otrivin Paed should be used in children aged 2 to 11 years old only under adult supervision.
Ingredients: 1 ml contains 0,5 mg of xylometazoline hydrochloride. Preservative: 0,011 % m/v benzalkonium chloride. Excipients: disodium edetate, disodium phosphate dodecahydrate, methyl hydroxypropyl-cellulose, purified water, sodium chloride, sodium dihydrogen phosphate dihydrate, sorbitol 70 % (non-crystallising).
Otrivin Paed. Nasal Drops is for nasal administration only, for children aged 2 up to 12 years of age.

1 to 2 drops of the 0, 5 mg/ml solution into each nostril, once or twice daily, are generally sufficient; a total of 2 applications a day should not be exceeded.

Excessive administration of Otrivin or accidental ingestion may cause severe dizziness, perspiration, severely lowered body temperature, headache, bradycardia, hypertension, respiratory depression, coma and convulsions. Hypertension may be followed by hypotension. Small children are more sensitive to toxicity than adults.

In instances of accidental poisoning in children, the clinical picture may be marked chiefly by signs such as acceleration and irregularity of the pulse, elevated blood pressure and sometimes clouding of consciousness, sweating, drowsiness, coma, convulsions, circulatory collapse.

Store at or below 25 °C. Keep out of the reach of children. Do not use the product after the expiry date shown on the packaging.