Otrivin Menthol Nasal Metered-Dose Spray
Fast & long lasting nasal decongestant that also relieves sinus pressure symptoms.
Unblocks your nose from 2 minutes.
Lasts up to 10 hours.
Aids sinus drainage.
Nasal Metered-Dose Spray: opalescent to clear, colourless to white solution with an odour of menthol and eucalyptol.
Otrivin Menthol Nasal Metered-Dose Spray: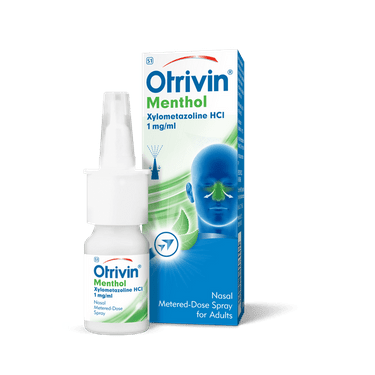 Ingredients and Instructions for use
Ingredients: It contains the active ingredient xylometazoline hydrochloride that helps to relieve congestion through direct action on the blood vessels to produce capillary constriction.1 ml contains 1 mg of xylometazoline hydrochloride. Preservative: 0,01 % m/v benzalkonium chloride. Excipients: disodium edetate, disodium phosphate dodecahydrate, eucalyptol (Cineole), menthol (Levomenthol), polyoxyl 40 hydrogenated castor oil (Cremophor RH 40), purified water, sodium chloride, sodium dihydrogen phosphate dihydrate, sorbitol 70 % (non-crystallising). Otrivin Menthol Metered-dose spray is for nasal administration only, in adults and children over 12 years of age: 1 application of the metered-dose spray into each nostril; a total of 3 applications a day is usually sufficient. Otrivin Menthol should be used after blowing the nose.
Remove the protective cap. Before the first application prime the pump by actuating 4 times. Once primed, the pump will normally remain charged throughout regular daily treatment periods. If the spray is not ejected during the full actuation stroke, or if the product has not been used for longer than 7 days, the pump will need to be reprimed with 4 actuations. Be very careful not to spray in the eyes or mouth.

Insert the nozzle into the nostril and press once firmly on the spray head and breathe in at the same time. Then withdraw the nozzle before releasing pressure. Repeat the operation in the other nostril. Replace the protective cap.

The dosing spray ensures the Otrivin Menthol solution is well distributed over the surface of the nasal mucosa. The standardized valve with which it is fitted permits accuracy of dosage and precludes the possibility of unintentional overdosage.

Otrivin Menthol should be used with caution in patients showing a strong reaction to sympathomimetic agents, as evidenced by signs of insomnia, dizziness, tremor, cardiac dysrhythmias or elevated blood pressure. Otrivin Menthol should be used with caution in patients with hypertension, cardiovascular disease, hyperthyroidism, diabetes mellitus, epistaxis, phaechromocytoma, prostatic hypertrophy, monoamine oxidase inhibitors (MAOI) treatment or who have received them in the last two weeks (see INTERACTIONS).

Do not exceed the recommended dose, especially in children and in the elderly.

Otrivin Menthol should not be employed continuously for periods exceeding ten days: prolonged or excessive use may cause rebound congestion and/or atrophy of the nasal mucosa

Store at or below 25 °C, protected from light and do not freeze.

KEEP OUT OF THE REACH OF CHILDREN.

Do not use the product after the expiry date shown on the packaging.